Clockwork Dungeon is a Single-Player Level. Clowork Entrance, Maze and Traps are seen here. 
Enemies:   Brutish Lunatic - Brutish Champion - Brutish Archer - Brutish Slayer - Elite Fire Imp - Fire Imp - Hellion Spitter - Hellion Warrior - Ghost of the Clockwork - Maze Demon (Boss)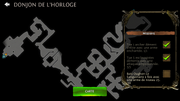 [to-do]
Main Quest
Edit
Savage Bedfellows: Return to the Clockwork Dungeon Entrance
Savage Bedfellows: Find a way out of the Clockwork Dungeon
Single Player Missions
Edit
Ad blocker interference detected!
Wikia is a free-to-use site that makes money from advertising. We have a modified experience for viewers using ad blockers

Wikia is not accessible if you've made further modifications. Remove the custom ad blocker rule(s) and the page will load as expected.