The resting place of a hundred civilizations, the Wasteland has been ravaged by more than its share of disasters. No longer considered habitable, the only life now found within is either on the verge of dying or returning from the dead.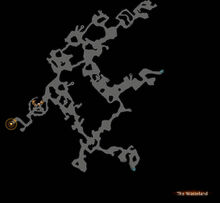 Hellion Leapers
Hellion Warriors
Hellion Spitters
Imps
Demon Champions
Putrid Corpses
Undead Spearmen
Undead Necromancers
person at the camp entrance
spirit somewhere in the middle of the wasteland (Mission: Defeat The Demon)
Ando, the Archaeologist (Mission: fight demons alongside spirits)
demonologist
Sister Fana (Hedzfanomiel, The Trickster; Mission: Defeat the Trickster and demons)
Lydia, the Archaeologist (Mission: fight demons)
Note: apologies for the general description as i don't remember the names of the NPC's. Will update them in a timely manner.
Single Player Missions
Edit
Normal Missions
Kill 150 Hellion Players with a charmed weapon
Kill 4 Elite Hellion Spitters with and elemental attack (Fire/Ice/Lightning)
Destroy 12 Demonic Spawners with a Tier 49 weapon
Personal Notes
Edit
Most of the enemies here are level 33-39, so if you have finished Kankheer at level 25-30 it'd make a nice training ground to upgrade your level up to 40 something since the area is so vast.
At the beginning like anyone else i thought it was bugged because i couldn't find the location of the "Defeat The Demon" mission that was given by the spirit. This was due to the fact that the pointer was pointing to the entrance to the Wasteland at the beginning of the game. The correct pointer should be pointing somewhere to the southeast corner of the map where the demon can be found. After defeating the demon, you need to return to the spirit where you will continue your mission.
Destroy the 3 Void Sparks and enter Wyrm's Nest to defeat Vespa before you can enter the Ancient Ruins.
You can "cheat" your way to the Ancient Ruins by defeating Vespa in the Mural Corridor instead of Wyrm's Nest because of those pesky dragonlings. Also monitor the events where Wyrm's Nest is part of the challenge where you can choose the levels of the enemies.